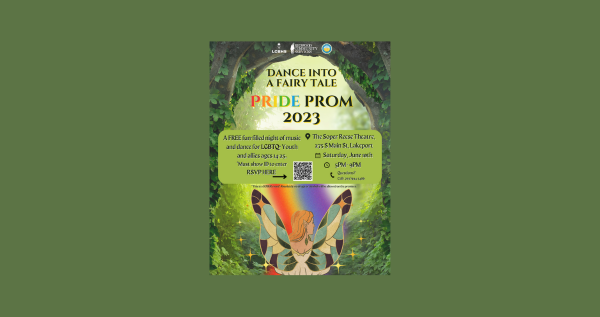 Pride Prom
Date:  Saturday, June 10, 2023
Time:  5pm to 9pm
Ages:  14 to 25
MISSION STATEMENT
The Harbor is a peer support center that serves youth, ages 14 to 25, with a vision of a vibrant, healthy, compassionate community where people feel seen, heard, and valued.  We strive to recognize all of our youth's barriers in life, which can include feeling ostracized for their gender and sexual identities.  In most traditional high school proms, the social environment heavily caters t a cis-gendered, heterosexual narrative which leaves our LGBTQAzS youth feeling left out and often do not attend their high school prom.  This PRIDE PROM is meant to provide those currently in high school and those who recently left, the opportunity to participate in an event that acknowledges, and warmly welcomes them.  Additionally, The Harbor also recognizes that the event age range of 14 to 25 can be concerning for community members, parents, and our young attendees.  The importance of safety will not be negated as this event and the following safety protocols will be implemented.
SAFETY PROTOCOLS
Pride Prom is  SOBER event.  Anyone under the influence will be asked to leave.
All participants MUST RSVP to attend Pride Prom.  ID's will be checked at the door to confirm your identity and attendance.  This is to assure the safety of all participants.
All chaperones will be wearing fairy wings so that they are easily identifiable by attendees should they need assistance.
All attendees will be given a colored bracelet (Orange for ages 14-17; Green for ages 18-25) so their age range is easily identifiable by chaperones and security.
All spaces within the venue and all exits will be supervised by chaperones and security.
If an individual leaves the venue for any reason, they will not be allowed to return.  If you need to go to your vehicle, let a chaperone know and you will be escorted to your vehicle.
School ID's or School Grade Portal can also be used for identification.  If you don't have an ID, please contact The Harbor (707) 994-5486.