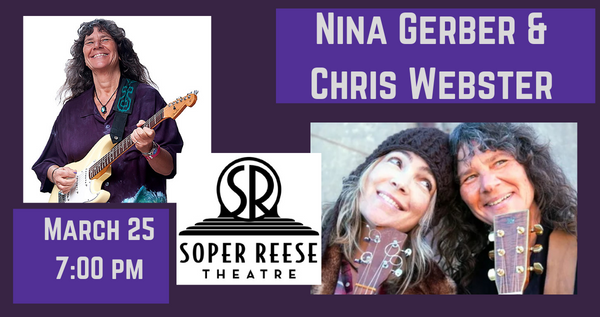 Nina Gerber & Chris Webster
Date:  Saturday, March 25, 2023
Time:  7:00 pm
Renowned guitarist Nina Gerber and vocalist Chris Webster bring their outstanding folk duo to Lake County. Opening the show will be Lake County's own Don Coffin and Gus Garelick.
"Music fans around here certainly know both Chris Webster and Nina Gerber as two of the most skilled and artful musical talents we've had the pleasure of hearing. Webster's voice is uniquely compelling while Gerber's work on guitar is breathtakingly both beautiful and powerful. Together they are magic. Webster and Gerber join together for an exquisite evening of original tunes and tasteful covers-soulful ballads, jazzy tunes, and gorgeous folk.

Chris Webster is a very special singer. She can rock, she's got soul, and most of all she can find the tiniest hints of emotion in any song and make it reverberate in our soul for a mighty long time. Also, she's grown into a major league songwriter, whose lyric takes on love, lost love, and the general vicissitudes of life are at different times poignant, funny, introspective, and exhilarating. Stylistically Chris runs from country, pop balladry, jazz, folk, blues, and whatever she does she brings sensitivity, strength, and an emotional breadth that few singers can match. Of course, many people around here are very familiar with Webster as one of the lead vocalists in local super group Mumbo Gumbo.

Guitarist Gerber has a long history in Northern California music performing guitar accompanying dozens of artists including Kate Wolf, Steve Seskin, Ferron, Dave Alvin and most recently Karla Bonoff. She is exquisitely tasteful as an accompanist on both acoustic and electric guitar. Together Webster and Gerber create magic like few others."

—- Palms Playhouse, Winters, CA 2011

"Nina Gerber & Chris Webster haven't rushed into this album thing—it's only after 25 years of playing together that they've released an album of gorgeous duets, Apple Blossom Lane, featuring Chris's bluesy, jazzy, soulful voice and Nina's incomparable guitar accompaniment, always surprising, yet always so exactly right. They take their time with each song, playing with possibilities, exploring depths, arriving at moments of rare beauty and transcendence. If you've ever heard Nina before, you know she always brings out the best in the musicians around her, and Chris's best is spectacularly good—her "magic derives from those ineffable qualities of vocal grain, emotional nuance, timing, and phrasing possessed by the truly great and moving singers of any style," says the Oakland Tribune. This is a pairing well worth the wait!"

—Freight and Salvage

"Tonight's show features country/folk singer Chris Webster and legendary bluegrass/folk guitarist Nina Gerber. The two have played together many times over their 20-year acquaintance and talk to each other like old friends, yet nothing about their performance feels worn.

"Normally, Chris and Nina are both kind of shy. But when they're together, they play off of each other, improvise, break out new material and jokes, cracking up each other and the audience." Laurie Schaeffer says with delight.

Setting up on stage, the two musicians seem relaxed and happy, chatting with people in the front rows. Describing the full house as "snuggly," Webster acknowledges that these shows are a labor of love.

As the first perfect note is strummed, all chatting falls silent. You can almost hear the rapture, everyone in the audience breathing softly so as not to disturb the sound. When the song ends, the crowd responds with religious fervor: thundering applause, whistles and cheers. A gray-haired woman clasps her hands under her chin and sighs. One man leaps to his feet, waving his arms in revival-meeting ecstasy."

—-Press Democrat, Sonoma County, May 2011

Chris Webster:

"Webster's is an authoritative voice that manages to make existential angst, romantic confusion and spiritual longing sound uncommonly appealing. Each note she sings conveys a probing, acute sensitivity to the little complications of life and love, with a sexy edge to boot."

—-No Depression Magazine

"Webster's magic derives from those ineffable qualities of vocal grain, emotional nuance, timing and phrasing possessed by the truly great and moving singers of any style."

—- San Francisco Bay Examiner

Chris Webster has been one of the lead singers for one of the best known regional acts (Mumbo Gumbo) for over 25 years.  Combining elegance and grace with a foot-shuffling manner, Webster has a purity and beauty about her that is seldom seen and never forgotten.  She can cut to the bone with tender, unrequited songs of love-gone-wrong then slap you upside the head with a fistful of lyrics and a take-charge melody that makes you step aside, stand back, and listen.

Nina Gerber:

"The evening's real star… Gerber usually says little and lets her guitar do the talking. She is a not-so-underground legend. Her wide-ranging folk-country- jazz-blues stylings have backed dozens of performers on stage and record."

—- Oakland Tribune

"Remarkable accompanist… A star in her own right… Gerber's contribution is magnificent…"

—- San Francisco Examiner

Nina Gerber toured and recorded with the late Kate Wolf from 1978-1986.  She has since toured or recorded with Karla Bonoff, Dave Alvin, Peter Rowan, Eliza Gilkyson, and Greg Brown, to name just a few. Nina has a unique ability to completely free herself within an eclectic range of styles. Presented with folk, country, bluegrass, rock, or blues, she is able to fall into leads which have rare reverence for the true feeling of a song, always emphasizing taste over technical display.
Tickets $25 Balcony, $30 Table