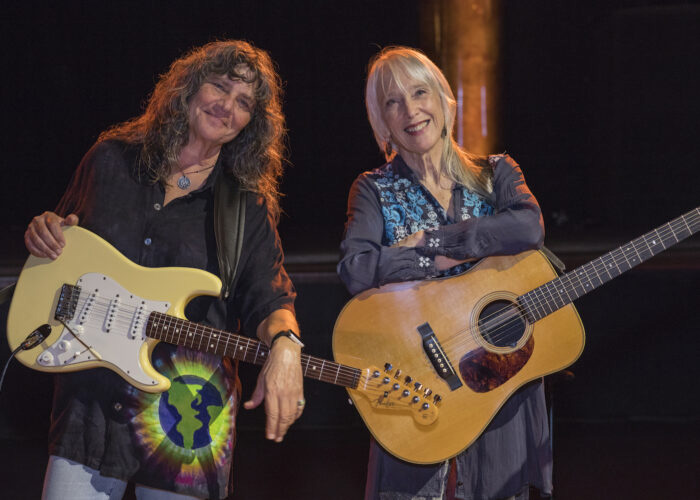 Laurie Lewis & Nina Gerber with special guests The Bezhenar Sisters from Ukraine
Friday, December 15th, 2023
7 pm (Doors open at 6:30pm)
Renowned guitarists Laurie Lewis and Nina Gerber bring their outstanding folk duo to the Soper Reese. Laurie Lewis says, "Any time I get a chance to play with Nina Gerber, the music that we create together does that thing that I want all music to do. It makes me laugh and cry. … Nina brings her Stratocaster to bend my songs in directions I may not have previously thought they would go. Always exciting, illuminating, moving, and just plain fun. We will be joined by two Ukrainian refugees, the Bezhener Sisters, who sing like angels."
Table Seats $35.00
Balcony seats $30.00
Reserved Seating
*Membership Discounts will apply.
LAURIE LEWIS
"To ask how Laurie Lewis's music is relevant in this day and age, in the broader folk, Americana, and bluegrass scenes as a whole, would be similar to asking how a brick in a home's foundation is relevant to its structure. Her influence, her reach and her artistic intent are quiet stalwarts on which so much has been built."
Justin Hiltner, Bluegrass Situation
For nearly four decades, Laurie Lewis has gathered fans and honors for her powerful and emotive voice and her versatile, dynamic songwriting. She is a sought-after recording producer and an equally skilled teacher and mentor.
She is an inspiration and a ground-breaker – across genres, across geography, and across gender barriers.
Laurie has shown us how a woman can blend into any part of the classic bluegrass singing trio, and she showed us how a great voice could move fluidly between bluegrass and other types of music.  She showed us how a female fiddler could emulate the strength and grit of the early bluegrass musicians. She has shown how a Californian can appeal to traditional bluegrass audiences, as well as winning acclaim in the worlds of Americana and folk music.
She has shown us how to lead bands of talented musicians – learning from them while helping them make their best music.  And she has shown us how to thrive in a constantly changing musical environment – without ever sacrificing her art. www.laurielewis.com
NINA GERBER
"…the epitome of a perfect musician! It is so Zen the way she perfectly under-girds and complements whatever music is at hand, never playing an extraneous or superfluous or irrelevant note, & always being perfectly in the flow with whatever she is playing & whomever she's playing with! Playing Music together on that level is Divine!… everything else is a more or less skillful filling the air with a more or less pleasant bunch of notes!"
Maria Muldaur
Los Angeles
Feb 10, 2018
After carving a career out of what some might call the shadows, guitarist Nina Gerber is at last beginning to dare the light. Her first album as a leader, Not Before Noon, follows two decades which brought her to prominence without ever placing her name on the front of an album cover. Since her accompaniment of Kate Wolf first earned her recognition, her acute skills as a performer, producer, and arranger have continued to deepen. Her contributions to acoustic music have earned her a following as loyal as the numerous high talents she has accompanied – proving the shadows equal to the spotlight in the creation of honest, powerful, and beautiful music. www.ninagerber.com
The Bezhenar Sisters – 16 and 18 year old Eleanor & Angelina

As Nina stated when she presented them at Freight and Salvage in March of 2023: "It's hard to imagine how something beautiful can come from the Russian invasion of Ukraine, but here are 2 things:

1) Individuals & communities are getting together to sponsor Ukrainian families to come to the US to escape the war.

2.) Eleanor & Angelina Bezhenar, their parents, grandmother, little sister & cat are one of those families now living in Northern CA. Listening to their music and voices is yet another very beautiful thing.

To help support the Bezhenar family, please visit their GoFundMe page – https//gofund.me/65a767d4