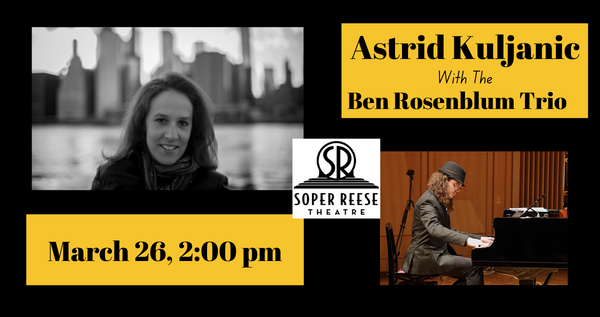 Astrid Kuljanic with Ben Rosenblum Trio
Date:  Sunday, March 26, 2023
Time:  2:00 pm
New York legendary vocalist Astrid Kuljanic will be visiting California accompanied by Lake County fan favorite Ben Rosenblum and his trio.
"It's an exploration. I love exploring my roots and I love learning about other music," says Kuljanic. "You can take inspiration from all sorts of places and over time, it becomes part of you."
Renowned for her complex musical sensibility and supple sound, Croatian vocalist Astrid Kuljanic has immersed herself in an eclectic variety of musical traditions from around the world. Her journey from the Balkans to New York has allowed her to absorb Jazz, Brazilian, and Indian music and acquire an advanced knowledge of performing with electronics using Ableton Live. Astrid is equally skilled in faithful interpretations of these styles as she is inventive in her own arrangements – employing mixed meters and folk harmonies personally and authentically.
With her New York quartet Astrid Kuljanic Transatlantic Exploration Company, she celebrated the debut album Riva released for OneTrickDog* Records with a sold-out concert at the Weill Recital Hall at Carnegie Hall. Astrid performed in venues such as Jazz Standard and Gramercy Theatre in NYC, The Kennedy Center in Washington DC, Teatro O'Nariz in Portugal, JZ Hangzhou, China, as well as festivals like Refugee Day at Brooklyn Conservatory of Music, Earshot Jazz in Seattle, Mendocino in California, GoldenFest in Brooklyn, Lent in Slovenia and Ordokatlan in Hungary.
Astrid holds degrees from the University of Zagreb, Croatia in chemical engineering, a Bachelor of Music from the Conservatory G. Tartini, Trieste, Italy, and a Master of Music in Jazz Performance from Manhattan School of Music.
Ms. Kuljanic's mission is to engage audiences across cultural boundaries. To that end she founded Crescendo Music Festival (Croatia) which has helped local audiences connect with a diverse array artists for more than a decade.
Concert starts at 2:00 pm
Ticket Prices:  $25 Balcony; $30 Table
Astrid Kuljanic Website:  https://astrid-music.com/
Ben Rosenblum Website:  https://www.benrosenblummusic.com/contact.html