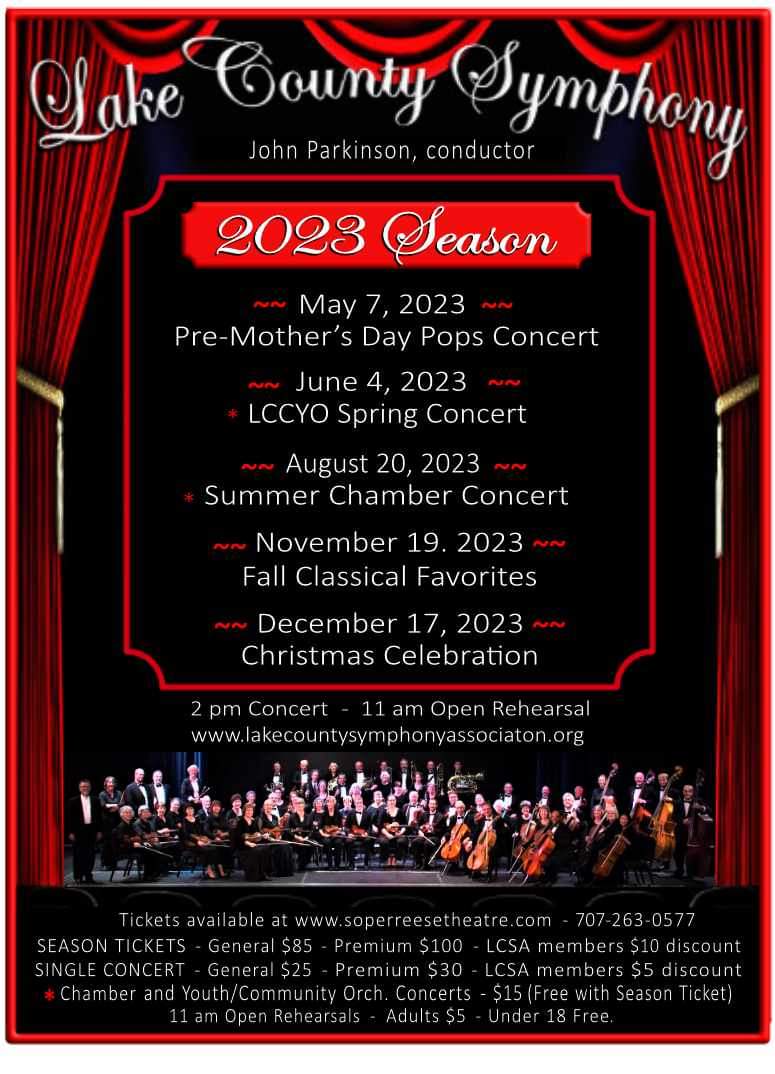 LC Symphony 2023 Season Tickets are
AVAILABLE UNTIL MAY 7, 2023
The 2023 Season Ticket Package prices have remained the same,
        but there are now 2 additional Complimentary (Open Seating) Concerts!  
      –  The Premium Reserved Center Loge (Sec BB) packages are $100 
      –  The General (Orchestra and Side Loge) Packages are   $85
          CURRENT members of the Lake County Symphony Association receive a $10 discount.
All of the Concerts are on Sundays at 2:00pm
There is an Open Dress Rehearsal at 11:00 am
The 2023 Season includes the 3 Main Reserved Seating Symphonies:
            May 7, 2023 – The Pre-Mother's Day Pops Concert
             November 19, 2023 – The Fall Classical Favorites Concert
   And   December 17, 2023 – The Christmas Celebration
Added to the Season Package are 2 open seating complementary events:
    August 20, 2023 Summer Chamber Concert 
AND the June 4, 2023 Lake County Community and Youth Orchestra performance. 
Season Tickets may be purchased until intermission at the 1st Symphony on May 7, 2023
Click Here to Purchase Season Tickets