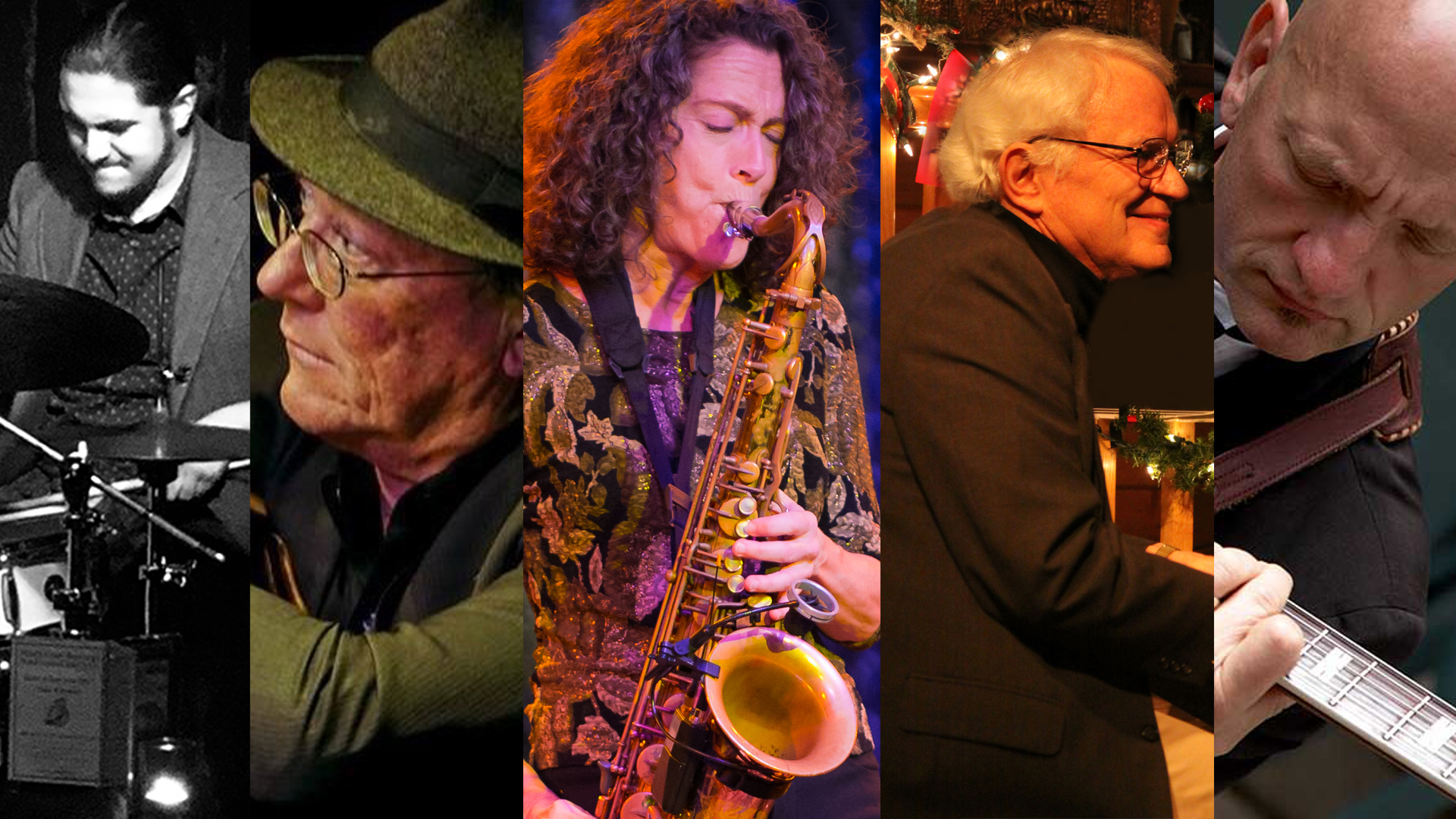 The WAMMY Jazz Quintet, a Soper Reese Benefit
Jazz and blues at its best. A Tallman Hotel Concert with Conversation to benefit the Soper Reese Theatre. Starring Nancy Wright, saxophone; Pierre Archain, upright bass; Jeff Massanari, guitar; Barney McClure, piano; Gabe Yanez, percussion.  This show will be presented as a YouTube Premiere Soper Reese Theatre event. Tickets for an On Demand version will go on sale on May 3.
Nancy Wright is one of the most highly respected and in-demand sax players on today's blues, Americana and R&B scene. Major music writers have hailed her big-toned tenor and compared her to the all-time greats.  ". . . one of the best horn blowers in the blues business…stunning command of the instrument that utilizes sputters, growls, honks and high-note wails while never losing sight of the strong melodies at the core of her improvisations…Wright has also emerged in recent years as a singer and songwriter of high order."   – Lee Hildebrand, Living Blues.
Barney McClure is a seasoned and superb pianist who has performed and/or recorded with Ernestine Anderson, Mark Murphy, Eddie "Cleanhead" Vinson, Jimmy Witherspoon, Big Joe Turner, Don Shelton, Greta Matassa,  and many, many more famous artists. He composes original music from Reggae to jazz to classical, and has published a "how to" jazz instruction book, "There Is No Such Thing As A Mistake." He arranges, composes and notates for Sound Music Publications and for a host of vocalists throughout the U.S.  You can hear Barney in the movie "An Officer and a Gentleman," and on the soundtrack of "Mr. Holland's Opus."
Jeff Massanari wears many stylistic hats including straight-ahead jazz, fusion, blues, rock and even has some serious country chops. He is at home playing complex jazz solo guitar arrangements as well as tearing up a plate full of blues on his Strat.  "… Massanari is an energized guitarist who fills the up tempo tunes with gelling improvisations that provide a continual kick. It is not just the speed of execution that makes the tunes burn, although there certainly is no lack of velocity in Massanari's playing. It is his ability to take off from the melodies with waves of original ideas that gives the music its appeal…." – Cadence Magazine
Gabe Yanez is a percussionist of uncommon insight, drawing on all aspects of the jazz tradition and the fertile tributaries of mathematics. He's one of the busiest musicians on the North Coast right now and he's growing by leaps and bounds, constantly challenging himself to new heights.
Pierre Archain grew up in France and lived for almost four decades in San Francisco, most influenced by the sounds of Dizzy Gillespie, Ella Fitzgerald, and Jaco Pastorious. Pierre currently lives and performs regularly in Ukiah.
Nancy Wright Website Nancy Wright YouTube Nancy Wright Facebook
Jeff Massanari Website Jeff Massanari YouTube
Barney McClure Website
Pierre Archain Facebook