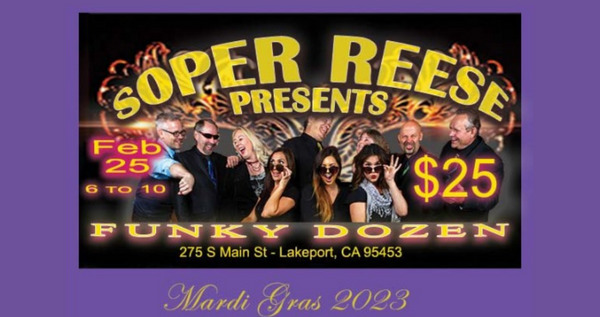 Mardi Gras at the Soper Reese!
Mardi Gras at the Soper Reese Theatre!
Join us as we celebrate Mardi Gras 2023! Dress in costume!  Join the parade!
6:00 pm Mardi Gras Parade Starts at Museum Park
6:30 Step off
7:00 pm Parade arrives at Soper Reese
7:30 pm Funky Dozen 1st Set
8:15 pm Band Break, Announcements
8:30 pm Funky  Dozen 2nd Set
9:15 pm Band Brea – Best Costume
9:30 pm Funky Dozen 3rd and final set
Proceeds will benefit the Children's Museum of Arts and Science for Adventure Camps/Music Programs/community art projects and more.
Tickets $25
Check back soon to purchase tickets.