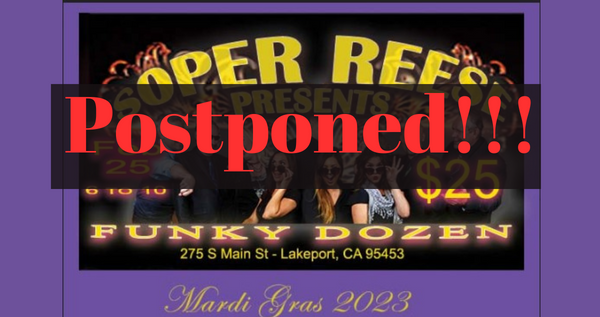 Mardi Gras at the Soper Reese!
PLEASE NOTE:  Out of an abundance of caution, we have decided to cancel this event and postpone it to a future date.  That date has yet to be determined and we will update this page as soon as we schedule it.  If you had tickets to this event, you have been sent an email with instructions for a refund if you so choose.  If you did not receive that email, please send and email to info@soperreesetheatre.com with the name that the tickets were purchased under and we will generate that refund.  We are deeply sorry to have to cancel this wonderful fundraiser, but we wish for all of you to stay safe!
Saturday, February 25, 2023
Mardi Gras at the Soper Reese Theatre!
Join us as we celebrate Mardi Gras 2023! Dress in costume!  Join the parade!
6:00 pm Mardi Gras Parade Starts at Museum Park
6:30 Step off
7:00 pm Parade arrives at Soper Reese
7:30 pm Funky Dozen 1st Set
8:15 pm Band Break, Announcements
8:30 pm Funky  Dozen 2nd Set
9:15 pm Band Brea – Best Costume
9:30 pm Funky Dozen 3rd and final set
Proceeds will benefit the Children's Museum of Arts and Science for Adventure Camps/Music Programs/community art projects and more.
Tickets $25 General Admission / $12 Children 11-16 / 10 and under Free!