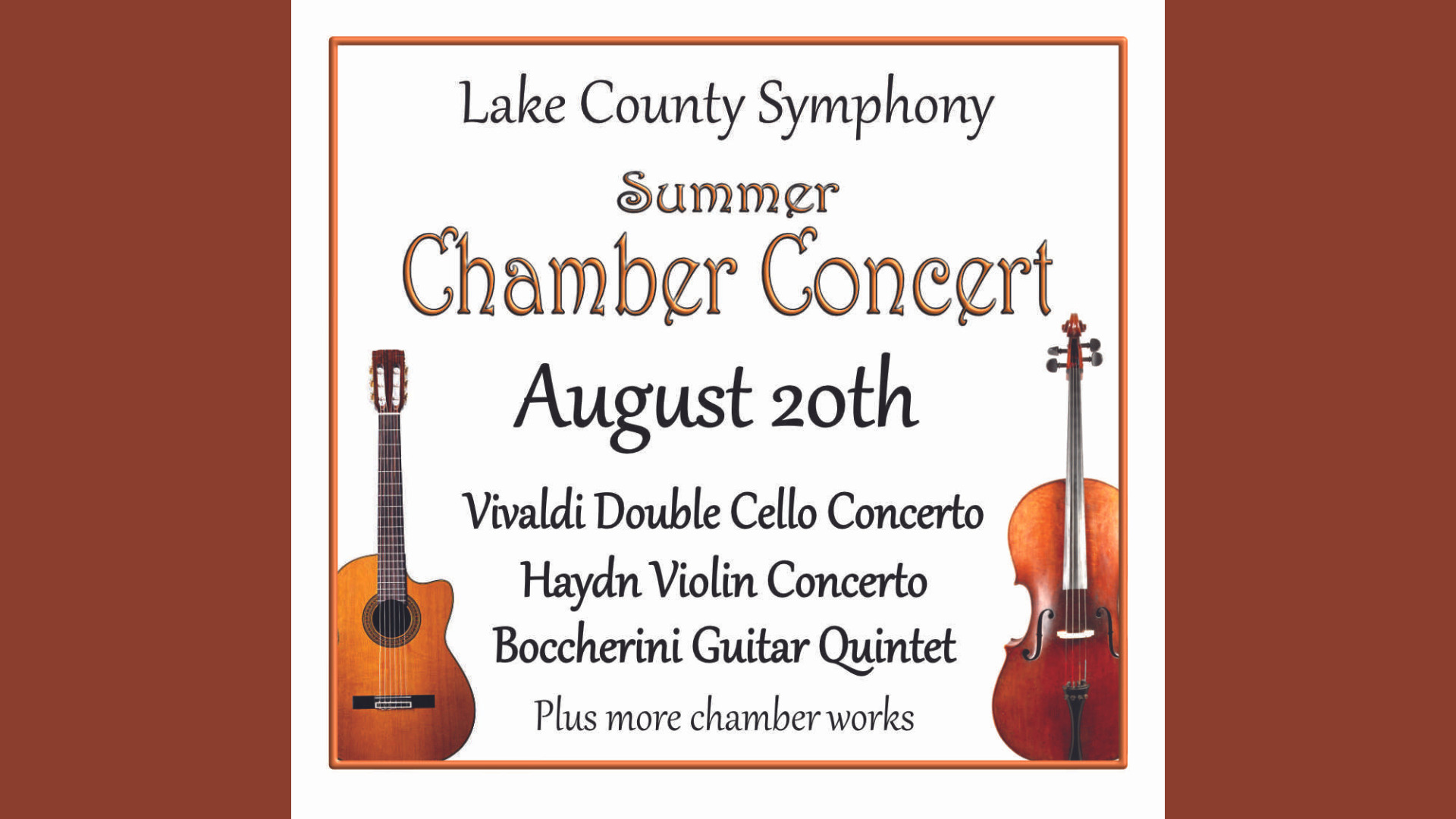 Lake County Symphony Summer Chamber Concert
Sunday, August 20, 2023
2:00 pm only
Open Seating
$15.00 – Adults
Free – Youth 18 & under
Lake County Symphony Chamber Orchestra performing a Haydn Concerto for Violin featuring Eleanor Cook; the Vivaldi Double Cello Concerto featuring Emerson Lee & Kathryn Vast, Boccherini "Fandango" Quintet featuring Guitarist, Carlos Bono, and more Chamber works.
John Parkinson conducting.
Andi Skelton, concertmaster
**Please Note: LCSA Member Discounts will NOT apply. There will NOT be a rehearsal performance in the morning.
This concert IS part of the Symphony Season Ticket Package.
However please note it is an Open seating event.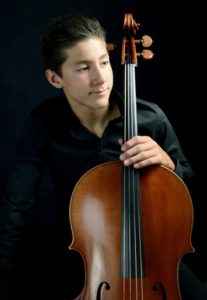 Emerson Lee, Cellist
Emerson Lee, 14, lives in Cloverdale with his parents
and older sister. His earliest exposure to playing music
was at age three at the piano with his mother Laura, an
accomplished pianist and singer.
Emerson began his musical studies on the piano at age 6 with
Virginia Cayton of Healdsburg, and began cello studies at age
7 with Kathryn Vast. He continues to play both instruments.
He graduated 8th grade this summer from The
Healdsburg School and will begin 9th grade at Maria
Carrillo High School in Santa Rosa this fall.
Emerson says, "The Vivaldi double cello concerto at first was quite
challenging, but learning it is very rewarding because it's a double concerto,
and I like the sound of two cellos playing together. The music is both exciting
and sad. It portrays a range of emotions that keeps it interesting."
Emerson's other interests include swimming, traveling, baking and chess.
He is a competitive swimmer with the Neptune Swim Club in Santa Rosa.
Emerson has already traveled much of the world, particularly Asia. Much of
his father's side of the family lives in Hong Kong and family travels have taken
him there as well as to Shanghai, Japan, Vietnam, Cambodia, Thailand,
Hawaii, the Bahamas, Canada and Mexico.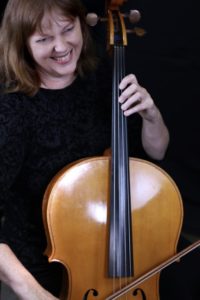 Kathryn Vast, Cellist
Kathryn grew up in the San Francisco Bay Area
where she began cello studies at age eight through
the public school system. She later studied privately
with teachers Virginia Slavich and Timothy Bach. In
college she played in the orchestra but mostly
studied horticulture. After moving to Washington
state she stopped playing for six years, but resumed
a􀀶er marrying her husband, jazz guitarist Carl Vast.
They reside in Santa Rosa.
Kathryn went on to form a string quartet and, later,
duo and trio combina􀀣ons that have performed for many corporate and
private events in the Wine Country of Napa Valley and Sonoma County, as
well as the major hotels of San Francisco. She enjoys researching li􀀺leknown
works for strings and has an extensive collec􀀣on of sheet music. Her
most recent project, during the pandemic, was learning the 12 Telemann
Fantasias, originally for viola da gamba. These were only recently discovered
and are a welcome addi􀀣on to the Bach Cello Suites. Kathryn enjoys
performing Cel􀀣c music and making arrangements of tradi􀀣onal tunes for
string trio. She also arranges music from many genres that she performs with
Sols􀀣ce, a trio of Flute, Guitar and Cello. Kathryn currently plays with the
Symphony of the Redwoods, Ukiah Symphony, Lake County Symphony and the
Sonoma County Philharmonic, of which she is a founding member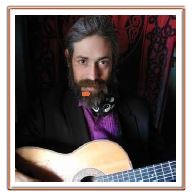 Carlos Bono, Guitarist
Carlos has been playing classical guitar since
1973 and has been teaching all forms of guitar
styles for over 30 years. He was formally educated
in music and classical guitar at the Conservatoire
Superieur de Paris and the Royal Conservatory of
Madrid a􀀶er being privately tutored in Mexico City.
Carlos has played solo classical guitar at cafes, bars and restaurants in San
Francisco, Chicago and San Felipe with a broad repertoire consisting of pieces
in the Western classical, Spanish classical, flamenco, bossa nova, samba, folk
and renaissance genres.
He has also been regularly hired as a studio guitarist for commercials and
TV show scores in Chicago.
Carlos has played lead, rhythm or bass guitar in several touring and local
bands with repertoires including rock, heavy metal, blues, disco, bossa nova
and new wave. Bands he played with regularly in San Felipe included Agave
Blues and Rocanova. The Rocanova Facebook page includes performance
images, events and videos.
Carlos has been performing solo classical guitar at weddings, wineries,
festivals and country clubs in the Wine Country of Northern California and
Baja California, Mexico.
He is currently playing classical guitar with the Lake County Community &
Youth Orchestra.
Carlos is based in Middletown, CA. You can visit his official website at
www.carlosbono.com for more informa􀀣on. Please feel welcome to message
Carlos to invite him to assist with a musical project or perform at your
upcoming local event or venue.
Eleanor Cook, Violinist
Born in the Bay Area and raised in Lake County,
Eleanor Cook grew up with a deep affinity for musical
instruments. She began her music studies at age 10,
taking clarinet from her school's band director, Nick
Biondo. Two years later, a􀀒er an extended campaign
on her part, Eleanor was given the opportunity to study
piano under the direc􀀳on of local teacher and philanthropist Anne Barquist.
Having taken up trombone in high school, Eleanor realized she had a talent
for picking up the basics of instruments quickly, which led to several years of
experimenta􀀳on, during which she tried violin, trumpet, flute, oboe, hand bells,
alto sax, euphonium, viola, cello, French horn, guitar, pennywhistle, and bodhran.
Eleanor ul􀀳mately chose to focus mostly on violin, studying with Wes Folle􀀥,
Andi Skelton, Wenyi Shih, and Dorothy Lee.
Eleanor received her B.A. in music from Holy Names University in 2009. She has
played violin with the Lake County Symphony and youth orchestra, Ukiah
Symphony, and the Holy Names Orchestra. She played in the Clear Lake High
School and Mendocino College concert bands, in the pit band/orchestras
for several musicals, and has fiddled with many local groups.
Inspired by her experiences working in caregiving and behavioral health,
Eleanor plans to step back from music to become a mental health counselor.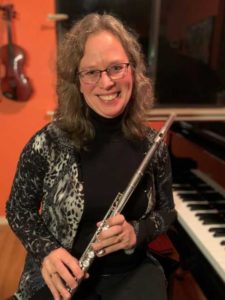 Patricia Jekel, Flutist
Patricia picked up the flute at age 10, after she
had started piano lessons at age 6. Born and
raised in Grand Rapids, Mich., Jekel performed
with the Grand Rapids Youth Orchestra and
played with her school band and orchestra
through high school, before ascending Michigan
State University. There she studied flute with
Israel Borouchoff, and piano with Joseph Evans,
and received a Bachelor of Music degree with a
major in Music Therapy.
Jekel moved to Lake County with her family in 2006
and began playing with the Lake County Symphony soon a􀀒er arriving. She also
plays with Symphony of the Redwoods, Lake Winds Quintet and has played with
the Ukiah Symphony. On an entirely different note, she plays fiddle in her Old
Time String Band, "The Cobb Stompers," with her banjo-playing husband, Darren.
Upon arriving in Lake County, with young children star􀀳ng school, Jekel
was surprised to find no instrumental music program in her district. She,
along with other music-loving teachers, began an a􀀒er-school band
program, which led to the rebirth of a band program at Middletown USD.
Jekel con􀀳nues to teach music at Middletown H.S. to help "keep music
alive" for the young people of So. Lake County.