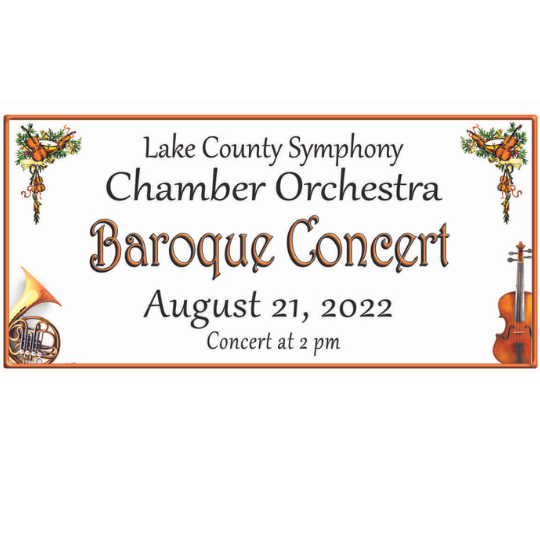 Lake County Symphony Baroque Concert
Lake County Symphony Chamber Orchestra Baroque Concert
For your summer enjoyment, the Lake County Chamber Orchestra will present their Annual
Baroque Concert on Sunday, August 21, at 2 p.m. (only) at Soper Reese Theatre in Lakeport. It
will be a short concert, compared to the regular season concerts, and there will be
refreshments in the lobby at intermission. The price is $15 and is free for season ticket holders
and for those under the age of 18.
Music by Johann Christian Bach, Christoph Gluck, Arcangelo Corelli and Wolfgang Amadeus
Mozart is featured. Soloists include Patricia Jekel, the Symphony's principal flute player, and
Kelsey Wiley, the principal horn player. In contrast to a concerto where there is only one soloist
accompanied by the orchestra, the Corelli Concerto Grosso features a small group of
soloists called the "concertato" which trades melodies back and forth with the larger group
known as the ripieno (orchestra). The concertato soloists will be violinists Andi Skelton and
Eleanor Cook and cellist John Weeks.
PLEASE CALL THE THEATRE TO CHECK ON COVID REQUIREMENTS BEFORE COMING TO THE SOPER REESE!