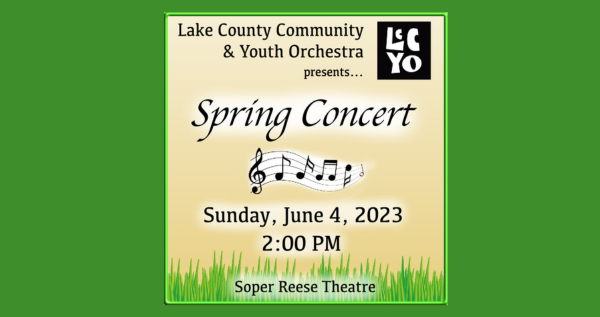 Lake County Community and Youth Orchestra Spring Concert
Date:  Sunday, June 4
Time:  2:00 pm
Tickets: $15 Adults
Free – 18 years and younger
Free – Season Ticket Holders
LCSA Discounts will not apply
The Lake County Community & Youth Orchestra will be holding an exclusive Spring Concert at 2 p.m. on June 4 at the Soper Reese Theatre, featuring music LCCYO members have learned over the past season.
A variety of individual and small combo musical presentations will be given by members of the orchestra. Additionally, Lake County graduating high school seniors will be honored, and scholarships awarded.
Tickets for this concert are free for season ticket holders and only $15 to the general public. The community is urged to attend and experience the joy and camaraderie of this community group.
The Lake County Community & Youth Orchestra (LCCYO) is a multi-generational performance-based group for musicians from middle school age to adults. All players from Lake County and the surrounding areas with intermediate to advanced musical instrument experience are invited to join. In addition to being a group with experienced players, this is the perfect opportunity for young musicians just starting out, players wanting to improve their skills on a second instrument, or adults looking to re-familiarize themselves with an instrument they may not have played for years. For more information about this program, contact the Lake County Symphony Association (707) 263-3750.